Yum - wonderful wedding cake card!
At the recent Kansas City Bridal Fair, hundreds of vendors displayed their finest. This wedding cake, from one of the local Kansas City vendors, just looked too tempting not to capture on a photo. Beautiful colors, sugar roses, leaves and purple sugary grapes spill all over the cake.
Imagine sending this card for engagement notices, save the date or thank you notes. Just customize your names on the outside, add your message inside - and have these lovely wedding cards delivered right to your door. (And don't forget the matching postage stamps, of course)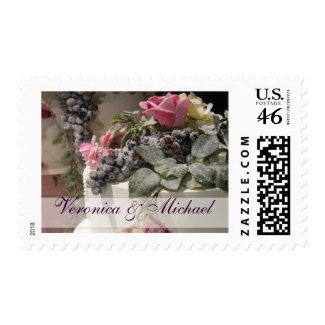 Or ... be dazzling at your engagement party and wedding showers with the wedding cake "bride" pin.